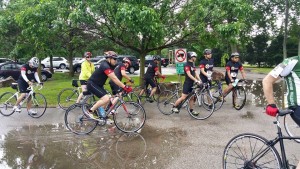 Rockin' River City Ride 
Our event takes place each spring and features multiple bike routes along the beautiful Evansville downtown riverfront. Visit the official Rockin' River City Ride event page for more information!
River City Rummage Sale
The River City Rummage Sale is back again this November at the National Guard Armory in Evansville, Indiana! The Preview sale is Friday November 9, 2018 from 5:00 PM to 8:00 PM, admission is $5.00 and all prices are double.  Then come back and visit us on Saturday November 10, 2018 from 7:00 AM to 2:00 PM, admission will be $1.00 and all items will be priced as marked.  All proceeds will benefit the Junior League of Evansville's mission and charities.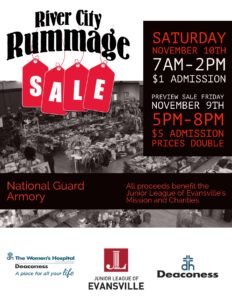 Cookbook
Once Upon a Time, Recipes and Recollections from a River City, our award-winning 2004 Tabasco National Winner, is available via our Community Outreach/Recruitment tables present at most Junior League of Evansville events or in our Online Store.