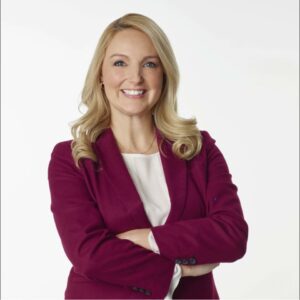 Hi!  My name is Natalie Rascher and it is an honor to serve as the President of the Junior League of Evansville.  For 97 years the Junior League of Evansville has held true to the mission of promoting voluntarism, developing the potential of women, and improving our communities through the effective action and leadership of trained volunteers.
The Junior League of Evansville has contributed to the community since 1926.  Partnering with multiple organizations throughout the community and starting many signature projects has led the League to a special project addressing food security in Evansville.  The Neighborhood Food Market has hit the streets of Evansville providing affordable groceries, free lunch and education.  I am so proud of the membership of our organization for their dedication to this project.  The Neighborhood Food Market is a snapshot of what can happen when we empower women to lead.
The annual Women's Conference has been dedicated to empowering women to be civic leaders through an effective, interactive development program.  Each year we celebrate the Top 20 Women In Business as well as present the Woman of Empowerment award.  The conference is a culmination of efforts that uplift the women in our community.
I am so excited to see what is next for The Junior League of Evansville!  Our recent focuses of food insecurity and the skilling up of women and children have enabled the League to make lasting change in Evansville.  I encourage you to join us!  Opportunities exist for members, community partners and donors.