Women's Conference 2021 – For more information and to register click here!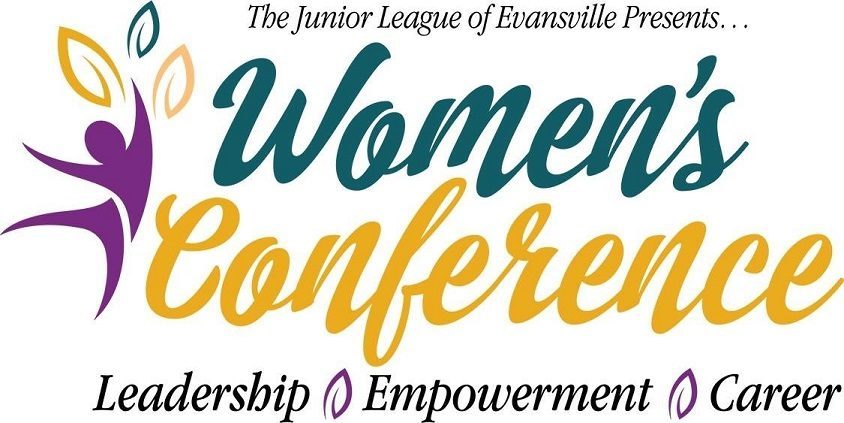 For over 90 years, the Junior League of Evansville has been dedicated to empowering women to be civic leaders through an effective interactive development program. In support of this mission, the Junior League of Evansville will host the Women's Conference and Luncheon on November 4th, 2021, at the Old National Events Plaza from 8:00 am to 4:00 pm.
This 3-tiered conference program is specifically designed to inspire and empower women at every stage of their leadership journey – from women who are just getting into the workplace, to rising managers, to tenured executives. The conference will include workshops and a vendor expo focused on women's interest, career, and leadership.
During the luncheon the Junior League of Evansville will present the Woman of Empowerment Award as well as name the 2021 Top 20 Women in Business in the Tri-State Area. These awards will recognize innovative servant leaders in the Tri-State area who make our community a better place to live and work.
Our Keynote Speaker for this years event is Victoria Krull, Google Workshop facilitator and Product Support Manager presenting, #IamRemarkable, a Google initiative empowering women and underrepresented groups to celebrate their achievements in the workplace and beyond.
8:00AM – 9:00AM – Registration, Networking and Visiting Exhibitors
9:00AM – 10:00AM – Workshop Session 1 (Participants will select a workshop of their choice for the session)
Katrinka Rynder – What discovery do you need before an interview? What preparation goes into landing the perfect job? In this session we will review the steps to take before – during – and after the job interview, discuss some industry tips, review the "Discovery" that will help you to feel more confident as you walk into your next interview and go over the "dos and don'ts" of Facebook and LinkedIn.
Louann Clark – How to Change your Mind… and Everything Else. The challenges of modern living can be enough to flatten even the strongest women, but the right skills can help you not only to conquer those demands, but to thrive. In this workshop, you will learn thinking skills you can put into action right away.
Amelia Roberts – Ask Better Questions. Curiosity is more of a mindset than a behavior. Rather than your 4-year old's rapid fire let's-see-who-will-give-up-first line of questioning, productive curiosity means that instead of listening to problem-solve, you listen to unpack. Knowing how to ask the right questions results in higher trust, connection, and productivity. This workshop is designed to provide a safe space for participants to experiment with new ideas and develop sustainable strategies that enhance what they already do well.
10:15AM – 11:15AM – Workshop Session 2 (Participants will select a workshop of their choice for the session)
Ashley Johnson – You Can Be a Mess and a Success. Struggling with thoughts, feelings, or emotions does not cancel your previous or future success. It builds empathy and resilience – traits that help you be a transformational leader. Using examples from her own life and a bit of humor, Ashley will walk you through her Three-Step Path to Success. It includes how to combat negative self-talk, identify, and address imposter syndrome, and the importance of maintaining wellness – even when you don't feel like it.
Panel Discussion with Tamara Wagner, Michelle Smith, Robin Deem, Andrea Hays, and Leslie Fella – Elevate Women in their Work – A panel discussion with the 2019 & 2020 Top 20 Women in Business. A discussion on Equity, Career Paths, Family Life and more. The Panelists will give honest and unique perspectives on women and work, sharing about both their personal and professional journeys.
Jenn Montague – Leading with Social and Emotional Intelligence. During this interactive session, Jenn will guide the participants in understanding how Social and Emotional Intelligence (SEI) impacts their effectiveness as leaders, review select SEI competencies contributing towards leadership success and provide the participants with tools to lead with SEI.
11:30AM – 1:00PM Lunch Session – This session is only for those who purchased a Luncheon Ticket. Keynote Speaker Victoria Kroll, Top 20 Women in Business, and the Woman of Empowerment Celebration.
1:15PM – 2:15PM – Workshop Session 3 (Participants will select a workshop of their choice for the session)
Lynn Miller Pease – How servant leaders can make our community BADASS.
Legence Bank – TBA
Jacklyn Ady – Empowering Creativity. Creativity is not just for the 'creative types' but is a muscle that can be developed. Just like any other skill in life the more you practice, the better you get. This session will teach strategies to bring original ideas to your everyday life and develop greater creative confidence. This type of thinking helps tackle complex, wicked problems and innovate fresh ideas in a variety of situations. This is useful whether it's utilized on an executive board, a local non-profit, an office, a consultancy, your business, or personal life.
2:30PM – 3:30PM – Workshop Session 4 (Participants will select a workshop of their choice for the session)
Jenn Montague – Setting Healthy Boundaries. During this session, Jenn will discuss how Setting Healthy Boundaries is a major component of Self-Care, guide the participants in creating a personal definition of what's Ok and Not Ok and practice a conversation framework to effectively navigate a boundary discussion.
Jessica Rick – Micro-Aggressions in the Workplace. Learn what micro-aggressions are and the impact on people who've been the target of micro-aggressions. How can we recover from micro-aggressions and rebuild?
Victoria Kroll – Adaptive Leadership. A framework for working through bog and/or ambiguous challenges.
3:30PM – 4:00PM – Networking and Visiting Exhibitors
Ready to register for the conference? Click here to register!
Price to attend the Women's Conference on November 4th:
$40.00 – Conference per person
$45.00 – Luncheon per person
$75.00 – Combo Conference & Luncheon per person
Click here to purchase tickets for the Women's Conference.
If you would like to make a donation to support the Women's Conference, please click here.
For more information about this event, please email us at office@juniorleagueofevansville.org
Thank you to our mission partners Deaconess Hospital and Deaconess Women's Hospital.
Thank you to our community partners: St. Vincent – Ascension, Legence Bank, Kemper CPA, and News 4U.