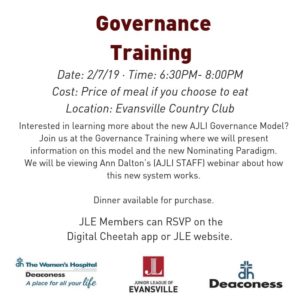 Interested in learning more about the new AJLI Governance Model?  Join us at Governance Training where we will present information on this model and the new Nominating Paradigm. We will be viewing Ann Dalton's (AJLI Staff) webinar about how this new system works. Governance Training will be held on February 7th from 6:30-8:00 PM at the Evansville Country Club.
Dinner will be available for purchase.
JLE members can RSVP on the Digital Cheetah app or the JLE website.